How to Add an Event to the Stellar Calendar
Getting started:
From a web browser, scroll down on almost any AIfA page until almost the bottom and click Login (under INTERNAL) to log into typo3 using your AIfA account's username and password.
You will see 3 columns. Click on List in the left column and on Stellar Calendar Events in the middle column. You should see a list of Calendar Events in the right column (see second image at the bottom of this page). If you don't, please contact our webmaster (frederic@astro.uni-bonn.de).
You will add events from here.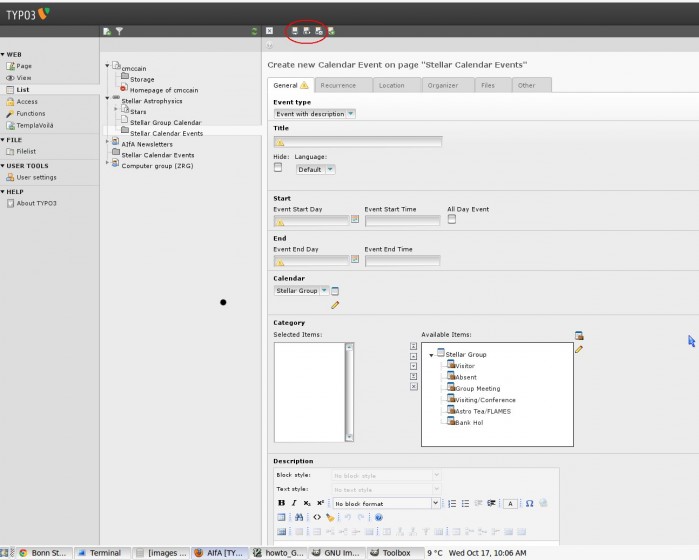 Now you're ready to add an event (see image above):
Add an event by clicking the plus sign next to Title under the Calendar Event title bar (see red circle on the image below). You should see Create new Calendar Event on page "Stellar Calendar Events". 
Fill in the details:

on the default General tab you can fill in the most important things: title (please add your initials so others know who the event refers to), starting/ending of event, which category. Other information (also on other tabs) you can add if you wish so.
make sure you choose a category from the list. Failing to do so will cause your event not to show up on the calendar.


You can edit your event by clicking the pen widget of the corresponding event in the Stellar Calendar Events list (below). To delete click on the trash can.
To add another event, click again Stellar Calendar Events in the middle column and go through the whole procedure again.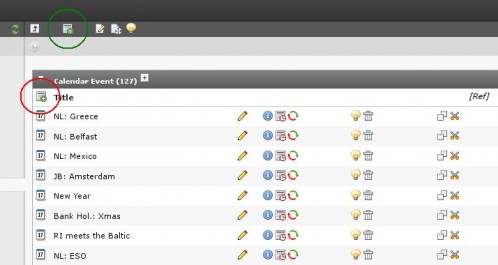 Some notes:
The calendar itself can be access from here.
The calendar per default displays month-view; other options are day-, week-, year- and event-views.

It can take a day or two before your event show up in the calendar. However, if you click on the day of your event (see no. 2),  you can usually see your event there.